Office Chair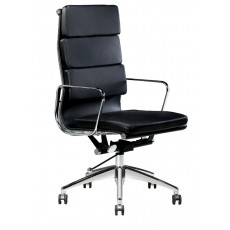 Relaxing at your cozy couch on weekends! Think about walking through your office doors tomorrow and spending 50 to 60 hours of your weekend sitting against your office desk. Are you suddenly started feeling stress? We don't blame you; those old-fashioned office chairs don't provide any kind of neck support while sitting and can be insanely uncomfortable for long working hours. But don't worry, we got you covered! Choose from our wide range of best office chairs and get relief from your exhausting office hours starting tomorrow.
Quality Office Chair Maker
MYND Furniture offers quality office chair Malaysia that not only provides you with comfort while working against your computer screens tirelessly but also reduces the risk of many health problems such as lower back pain, leg soreness, and severe neck problems such as cervical spondylosis. With the adjustable features, these office chairs are user-friendly as compared to normal office chairs. You can always adjust the height of the chair according to your body structure to keep your body at the right posture and prevent any kind of muscle soreness or numbness after tiring working hours. These office chairs are designed with neck support and headrest to provide support to your head and neck from the back and prevent exhaustion.
What are the different types of office chairs?
Office chair that commonly available in the market are leather chair, mesh chair and fabric chair. And height differentiate into highback, midback, and lowback office chair
Why are office chairs on wheels?
The wheels of your office chair make you able to move around and reach everything on the office table, and get in and out from your seat.
What are the most comfortable office chairs?
Ergonomics design is currently the most important thing to consider for an office chair, as you would be working on the chair for 8 hours daily, you need something that support your back and neck, and let you concentrate in your work but not your pain.