Laboratory Furniture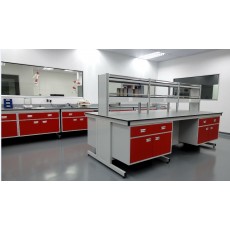 When it comes to clinical laboratories, you need everything appealing to elevate the look of the laboratory. But what about the safety issues? As these clinical or scientific laboratories have the storage of many harmful chemicals and harbor hundreds of scientific experiments on a daily basis, there is a significant risk of the damage to the furniture, or even worse; this furniture may also catch fire, which could be life-threatening. MYND Furniture offers an entire range of laboratory furniture that accommodates the standard configuration of the laboratory space. The clinical laboratory furniture is designed with abrasion-resistant materials and offer high tensile strength considering safety as the prime most priority.
Laboratory Furniture Supplier
Our worktops are made with the combination of resin and other materials to achieve the maximum physical strength, stability, and chemical resistance. We are the leading laboratory furniture supplier in Malaysia that provides its clients with the complete laboratory furnishing solution that fits their space as well as their budget. From strong and stable worktops to bar stools, you can design the perfect laboratory space in your clinic, university, hospitals or any other institution with the best quality and aesthetically appealing laboratory furniture sold at MYND Furniture at the best price.
Where we should buy laboratory furniture?

You will able to get laboratory furniture from Mynd Furniture. We can make laboratory furniture according the design you need, or we can propose the existing model for your usage.
How do I find out the manufacturer of laboratory furniture?
Mynd furniture is one of the laboratory furniture manufacturer and supplier that you should consider when you are selecting furniture for your laboratory.
Showing 1 to 10 of 10 (1 Pages)